Home » Reviews »

SilverSingles review
Tired of wasting time on people who consider age essential in relationships? On the Silvers Singles dating site, mature singles are looking for mature partners. There are no significant age gaps, just the best possible matches, effective communication, and stable relationships. Continue reading this Silver Singles review to find out all the specifics of this dating platform if you're interested.
Biggest pro: An ideal place to find a 50+ partner or just a friend
Biggest drawback: Some percent of fake accounts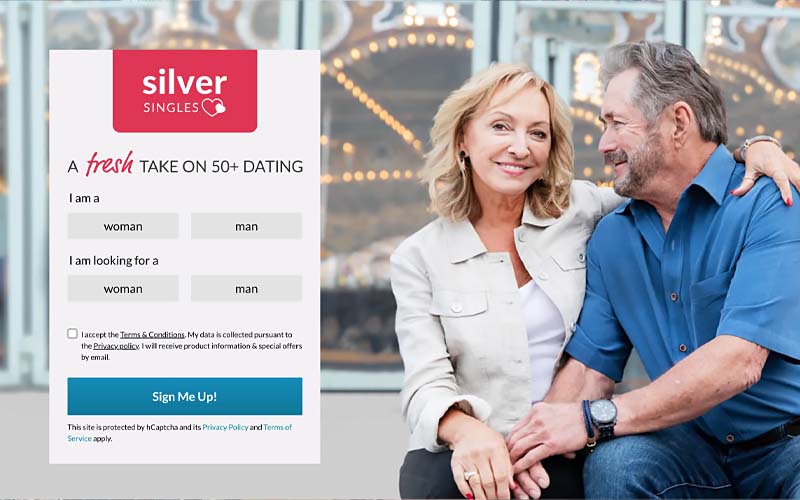 Let's be honest, there are not many dating sites that cater to people approaching their 50s. The age group of 48-65+ is neglected in the online dating industry, while Silver Singles brings a solution to mature singles, allowing them to find potential matches for serious dating. We will conduct a huge SilverSingles review to find out whether it's a decent dating site, how to use it for success, and whether you should really be putting in all that money and effort.
Website in 5 seconds 
| | |
| --- | --- |
| The number of users: | 130M members |
| Mobile app: | Yes, but the mobile app is available only to premium members |
| Matching & search filters: | Free filtering for appearance, distance, and profile pictures |
| Messaging on the site: | Instant chat, "Have we met" feature, "Smiles" |
| Paid or free: | Free trial has limited features. The cheapest plan is $8.95/month for 12 months, while the high-ticket offer is $19.95/month for 3 months |
| Website: | silversingles.com |
Silver Singles, who's it for?
Silver Singles is for mature people over 50 years old that look for serious dating
It's for singles who want to spice up their routine with a mature fling
It's for 50+ years older adults looking for friends
The unique features of Silver Singles
The SilverSingles app surprises with a meticulous sign-up process: 40 questions on your perfect match to make the SilverSingles matchmaking process streamlined. This is one of the numerous unique features of the dating app: the engine relies on your answers. So, let's get more detailed on how to find, chat with, and attract the users of Silver Singles.
Guide: Searching for a perfect match in Silver Singles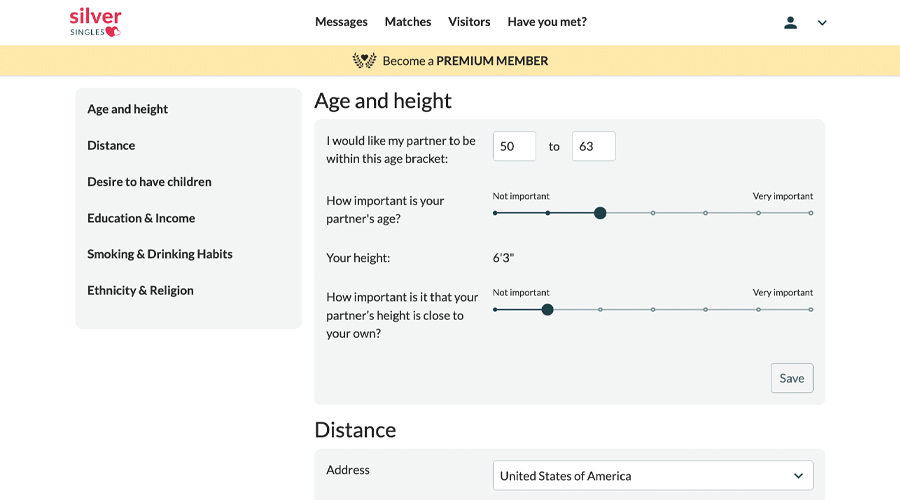 Unlike other dating sites, Silver Singles provide you with a long survey: it's all about your personality and your ideal soulmate, including education, appearance, ethnic group, and whatnot.
The 40 answers you give will be used to grasp your dating preferences and suggest matches in accordance with them. To adjust filters, you have to find "Matches" in the upper bar and then click on "Extended settings" to see the full list:
Age and height: you set these parameters for You and for Your partner
Distance: you only set how far you don't mind searching for matches
Desire to have children: again, about your desire and your partner's
Education & Income: you tell about your income and how likely you are to date someone who has a smaller one
Smoking & Drinking Habits: do you have bad habits, and how often do you not mind your partner drinking or smoking?
Ethnicity & Religion: your beliefs and what beliefs you want for your partner
The filters of the SilverSingles app appeared to be accurate and easy to use but time-consuming. However, the personality test results surprise us with their brilliant preciseness and help find matching SilverSingles members in 8 out of 10 cases.
Guide: Chatting on Silver Singles
There are numerous options for chatting today, from two-way webcam sharing to sophisticated and cozy instant chat—the era of long emails was set aside by dating sites.
However, the Silver Singles preferred to keep it concise and only provided a text chat as a main channel of communication.
The chat can be found under each profile picture and above. It allows emojis and attachments. The stand-out feature: you can see whether the user has read your message.
The "Have you met" feature—is another option for the connection you find above. You see the matches list and are about to like/dislike those. Someone from those who had you on their list will do the same, with a chance for you both to be of each other's interest.
Comments. Your profile visitors can comment on parts of your profile and even Like those. For example, you can leave your comment under someone's "What's your passionate about?", personality, favorite activity block, etc., as a case in point.
Overall, 80% of users are very responsive and active. You will be matched with someone at least several times in 10 minutes. People were more likely to respond to a profile with a picture and were more aware of fake profiles.
Silver Singles free and premium membership
The dating site is not free of charge, free members can interact with premium members but won't get more than several options that don't include chatting. Even to view profile pictures, you have to become a premium member.
What's for free?
Even without a premium account, you can enjoy these options on the dating site:
Activity on other users' profiles. Even though the imagery is all blurred to free membership owners, you still have the option to browse the profile and even like and comment on what it contains. It's a wonderful option to initiate contact, showing your respect to a person.
Extended matching. Once you pass a personality test, you can change your answers for free. The matches are unlimited, and you can filter up profiles, changing settings whenever you wish.
"Have You Met" game. Tinder's swipe-right matching principle spices up online dating—you can Like, Smile, swipe left daily matches, and the user will be notified about it. You don't even have to initiate a dialogue!
Viewing the personality test results of other users. What's more significant, to view a profile picture or to know all the personality traits, desires, and preferences of a random member? It's a strong feature to offer for free.
However, to fully use the dating site, you will have to buy a premium account. SilverSingles site has several plans, and the cheapest of them already has everything you need for comfortable dating online:
Viewing your visitors. A tab above ("Visitors") will show your page's statistics, including all the data on interactions other users have done there. You can filter your visitors just like if you were filtering your potential partners.
Unlimited communication. Comments, first lines in the "Have You Met?" wildcards, and surely the instant chat will be available if you purchase any plan the dating platform offers.
Seeing profile pictures. Personality test results by the five-factor model are still a wonderful option for free, but being a premium member will let you estimate the appearance of potential matches.
More wildcards for "Have You Met?". Now you have under 10 wildcards as a free membership user, while premium members have over 20 of those per day.
Read receipts for messages. It's a good thing to know whether your letter has been delivered and read, and this is why a Read Receipt feature is that handy.
Profound personality test results. Premium membership allows you to found more about your personality test, including figures and more accurate personality estimation.
Dating app access. Finally, a monthly cost of $8.95 enables a convenient dating app to be used on the go. As online dating activity is crucial for love life, having an always-ready app is a direct access to this great site and all the features it offers.
About 50 singles reached out to me, and I was eager to message them back, especially after looking into their genuine profiles. As SilverSingles offers affordable pricing, I purchased a premium account and dived deeper into unlimited access to communication, wildcards, and smart matching. To conclude, premium SilverSingles is worth it if you're looking to chat with numerous experienced and compelling personalities down there.
How to find a soulmate on Silver Singles: Useful tips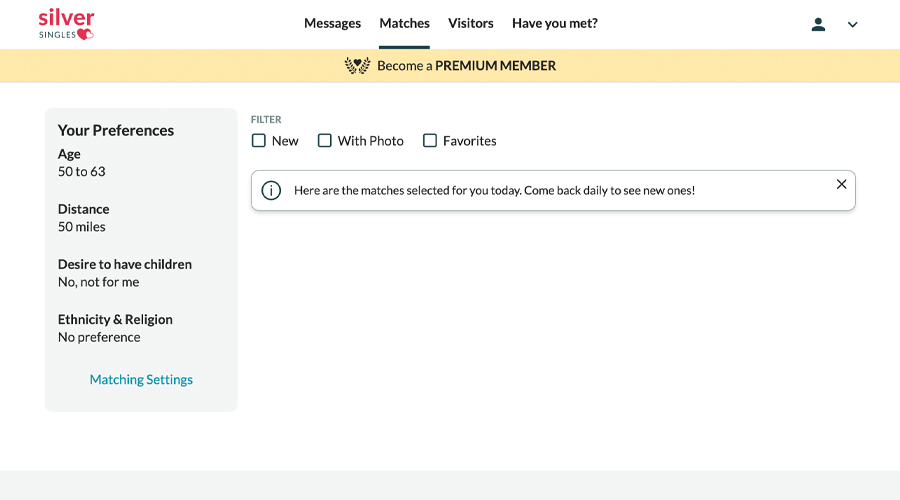 If you still wonder, "How does SilverSingles work?" and usually struggle to find a match on dating sites, here are some tips on landing a serious relationship or a match for casual dating in.
Don't be strict about your preferences. This is advice from the website itself, the sterner you are toward bad habits, children, or sexual preferences, the fewer chances you have.
Fill it out at 100%. Users will pay way more attention to your personality traits than anything else, and therefore investing 15 minutes to complete a profile on

SilverSingles

is worth it.
Use your basic membership at the max. Even though you can't reach out to users, a free account allows you to browse, see partner suggestions, and "Smile" at profiles. That level of activity will grow your matching score tenfold.
Although the tips are simple, they are effective, so don't be lazy to use them.
Pros & cons
SilverSingles offers for premium are affordable
A free account helps you to understand if it is worth the money
A great number of users looking for long-term and casual relationships
There are pieces of advice from relationship experts
The dating app is paid
No video chat or any other communication channels besides messages
How safe is your experience on SilverSingles dating site?
Surely a dating scene is never safe from catfish, phishing, and fraud in general; therefore SilverSingles strengthened the dating fortress with several effective technologies.
SSL certification secures your connection from data breaches and fraud.
McAfee technology is a lighter version of fraud detection systems that secures your experience on the website.
Refund can be conducted if you contact customer support and tell them that: a) you've subscribed by mistake; b) you became a victim of a scammer.
The website has also provided a few pieces of advice regarding safety on dating sites:
Don't share your personal data with anyone online—it can be used for blackmailing.
Be mindful that a nice person you're chatting with may appear to be a scammer.
Don't send money—an honest person won't ask for that.
For a date arrangement, choose a safe, neutral place where people will surround you.
If everything is too good, it's not good. A mature billionaire won't be desperately writing to all females on the website—it already smells fishy.
Remember, if you notice at least one red flag, you shouldn't communicate; it is better to complain to the support service.
How to boost your SilverSingles dating profile?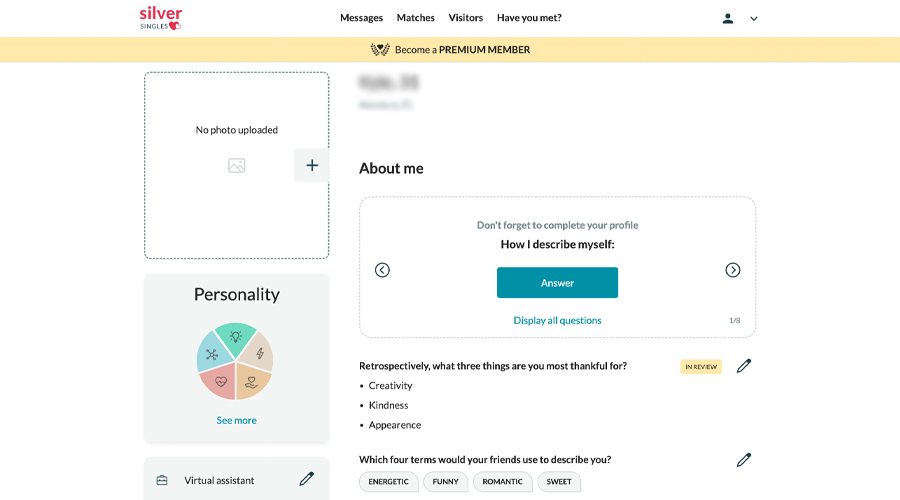 Your SilverSingles free profile won't limit you in getting more daily matches, in fact, the dating site wants you to get popular. Let's see how to create a match-making profile starting with the registration process.
Provide honest info: mail, name, and location.
Pass the personality test to the very end, and be sure to be genuine in your answers.
Don't ignore the essays. Write at least a couple of lines where needed—people pay attention to it.
Set your nicest photo as a profile picture. Your face and head shouldn't be covered, it will make you more recognizable.
Switch SilverSingles free to the premium membership to get more tools on your profile activity.
Online dating sometimes takes time, but it's the best time you can invest if it ends with happiness and long-term relationships. There are numerous SilverSingles reviews that inspire you to put effort into online dating, and the next success story could be yours.
Expert's take:
To gather this SilverSingles review, I invested two weeks. As premium packs of SilverSingles cost not much, I purchased the Medium plan and leaped into online dating at once. The paid version of the online dating website appears to be handy; it doesn't offer redundant features just to add fees you will cover, all the options from communication to smarter matches made sense, and had significantly boosted my profile's popularity during my SilverSingles review. Overall, it's a decent and affordable website that caters to all people regardless of age range.

Meet Derek Vincent, our researcher. He has 8 years of experience as a certified counselor and specializes in reviewing dating platforms and analyzing their potential for singles for Dating Tutors.